What are the Global Index funds?
Our Global Index funds are ready-made, multi-asset investment portfolios made up of different combinations of equities and bonds. They invest in index funds managed by Vanguard, one of the worlds' largest fund managers. Each of the funds are rebalanced on an ongoing basis, so the mix between equities and bonds stays consistent over time.
These funds are a relatively low-cost way to invest in a diversified, all-in-one portfolio, with each of our five funds having an annual management charge of 0.95%.
Risk versus returns
In the simplest possible terms, the more risk you are comfortable taking in your investments, the greater the potential reward over time. That also means, however, that there is greater potential for loss.
Our five funds are professionally designed and constructed to offer a range of options by combining different percentages of bonds, generally considered as lower-risk investments, and higher-risk equities.
The graph below illustrates how the funds are split, and how that impacts their risk level.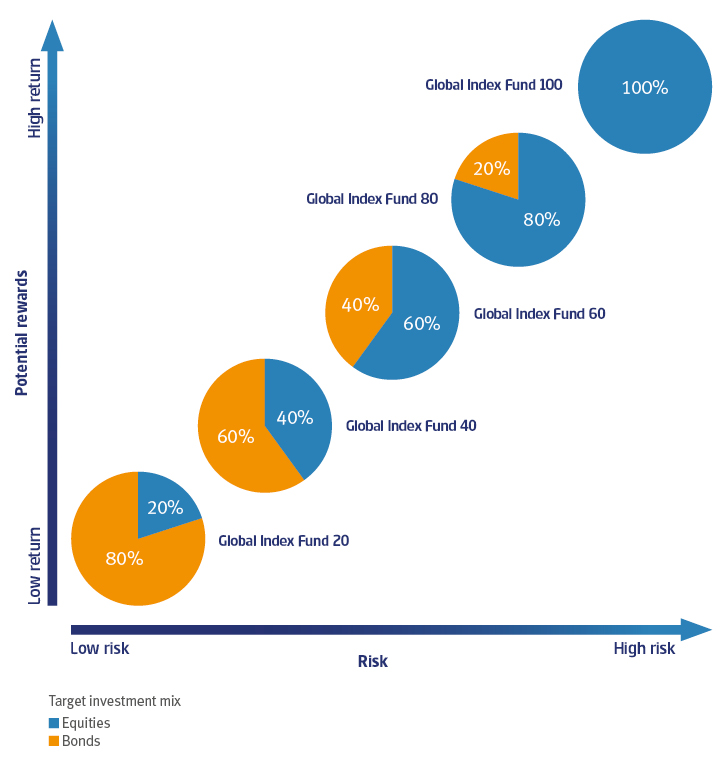 Your attitude to risk
If you're new to investing, or you're not sure what your attitude to risk might be, our risk questionnaire is a good place to start. Developed by Oxford Risk, an independent academic team originating from Oxford University, it gives you a score that helps you understand your 'risk appetite'. However, the score shouldn't be seen as financial advice, and we always recommend speaking with a financial adviser before making any investment decisions.
If you already know you're not willing to take any risk, the questionnaire is not for you.
More information about our Global Index Funds
The guides below give you more information about each of our funds and how they operate.
The information on this page should not be regarded as financial advice. It's important to remember that our Global Index funds are not the only funds available to you. Please speak to a financial adviser before making any investment decisions.
Warning: The value of your investment may go down as well as up
Warning: This investment may be affected by changes in currency exchange rates
Warning: If you invest in this product you may lose some or all of the money you invest
Useful links